NOTE FOR ALL OUR CLIENTS
FIRST OF ALL WE WOULD LIKE TO WISH ALL OUR CLIENTS A VERY HAPPY AND SAFE REST OF YOUR SUMMER.
AS YOU ALL KNOW, FROM THE FIRST DAY THAT WE OPENED 4 YEARS AGO, WE HAVE NOT CLOSED FOR VACATION BECAUSE WE BELIEVE OUR CLIENTS COME FIRST.
UNFORTUNATELY, AS MOST OF YOU KNOW OUR FATHER WAS BATTLING STAGE 4 CANCER BUT HE LOST HIS BATTLE ON JULY 20TH.
WE ARE TAKING SOME TIME OFF TO REMEMBER HIM AND TO HEAL OUR SOULS AND HEARTS FROM THIS HORRIBLE LOSS.
WE DO HOPE THAT YOU ALL UNDERSTAND.
AS YOU SEE BELOW WE WILL BE CLOSED FOR A WEEK AND BE BACK BEGINNING OF SEPTEMBER.
WE WILL BE ACCOMMODATING ALL OUR CLIENTS TO THE BEST OF OUR ABILITY.
THANK YOU FOR YOUR PATIENCE AND UNDERSTANDING AT THIS DIFFICULT TIME!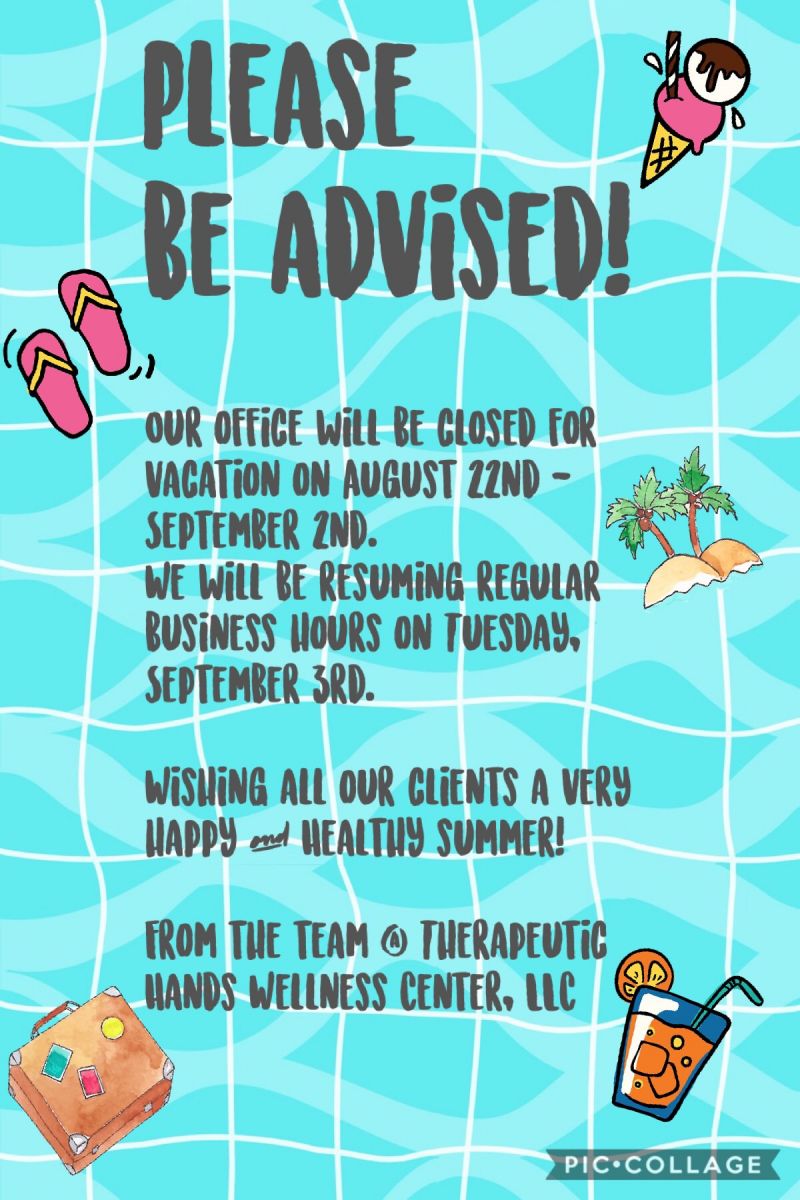 Thank you to all our clients for taking the time to write such amazing, heartfelt reviews about us.
WE DID IT AGAIN!
WE WERE AWARDED THE 2019.."PEOPLE LOVE US ON YELP" AWARD, 4 YEARS IN A ROW!
WE ARE VERY HONORED AND GRATEFUL!!!

Welcome to THERAPEUTIC HANDS WELLNESS CENTER!

Therapeutic Hands Wellness Center will revitalize your mind, body and soul. Whether you enjoy a relaxing massage, restorative body treatments, or combine therapies for a luxurious spa day, our highly trained, certified and experienced staff will make sure that you leave feeling incredibly rested, renewed and energized.
Our philosophy is that every massage should fit each clients needs. Different modalities will be used in order to give you the best results. Our therapeutic massage services are very effective and you will be pleased with the actual result that will change your life.
Therapeutic Hands Wellness Center prides itself on the quality of our staff. Our professionals have been carefully selected to provide you with the highest quality experienece available.
No matter what issues you face, we are here to get you back to good health and comfortable pain-free living.
Don't live with your pain and stress, only one phone call is needed for your comfort and better life.
We are located in Hillsborough ,NJ
NO MEMBERSHIP REQUIRED!